The Virginia Beach Field House offers Indoor Fields, Courts and Rooms as well as outdoor Sand Courts for use for the recreational to elite athlete, teams, parties, or even corporate businesses. Strict rentals are booked per hour and does not include VBFH Staff or equipment. Any rental that requires staff, food, or equipment is classified as a Special Event and must be booked with Emma Davis, Business Development & Community Relations Director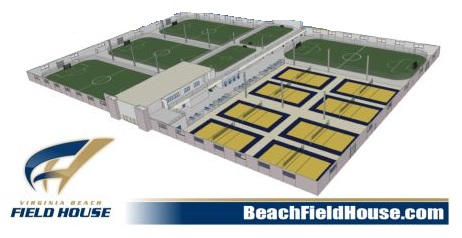 Building Dimensions
Virginia Beach Field House
328′ x 468′
153,504 sq.ft.
Surface Sizes and Dimensions
Large Turf Field (Indoor) ( 4 Field Total)
180'x90′
16,200 sq.ft.
Small  Carpet Turf Field (Indoor) (2 Fields Total)
46'x 90′
4,140 sq. ft
Basketball Courts (4 Courts)
72′ x 91′
6,552 sq. ft.
Volleyball Courts (8 Total)
72′ x 42′
3,024 sq. ft.
Sand Volleyball (Outdoors) (8 Courts)
50′ x 80
–
Sand Modules (2 Modules)
–
–
| | | |
| --- | --- | --- |
| Resource | Off-Peak rates | Peak rates |
| Large Field | $130.00 | $180.00 |
| Small Field | $65.00 | $80.00 |
| Basketball Court | $65.00 | $90.00 |
| Volleyball Court | $35.00 | $45.00 |
| Sand Volleyball | $35.00 | $45.00 |
| Sand Module | $130.00 | $180.00 |
| Room (no host) | $65.00 | $65.00 |
Rentals are booked on a first-come, first served basis and are based on seasonal availability.  Full payment of your rental is required at the time of reservation. Without full payment, we can not reserve your time and thus can not guarantee that the space will be available when you arrive to the facility. Any cancellations must be made at least 72 hours in advance.
* For all rentals arranged with less than 72 hours notice, please call our front desk at 757-427-3955 for availability.*
VBFH Peak Times:
Monday – Friday – After 4PM
Saturday & Sunday – All Day
VBFH Off-Peak Times:
Monday – Friday – Before 4PM
We look forward to having you with us. Please feel free to contact us with any questions.
Emma Davis
Community Relations & Business Development Director
edavis@beachfieldhouse.com
757-427-3955