2018 Women's Basketball League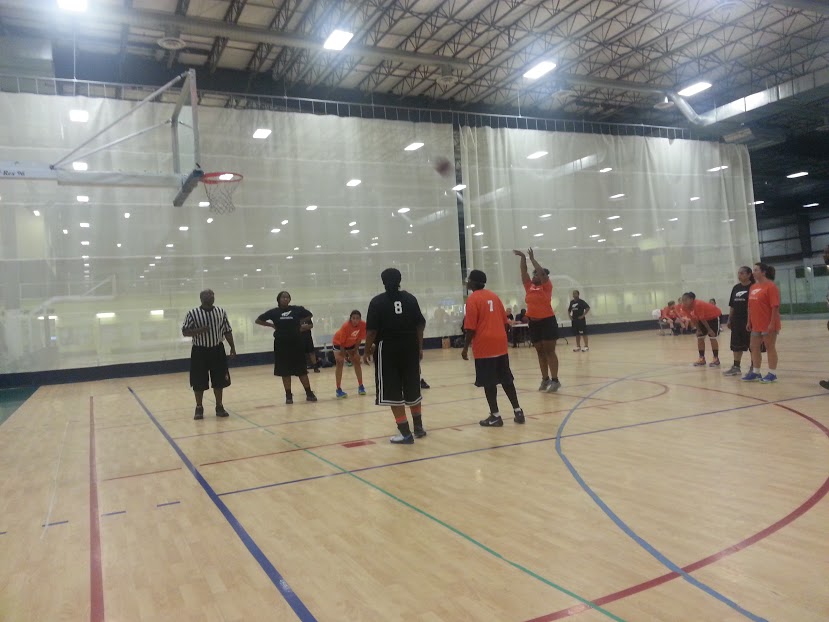 Price: $75
Play Time: Thursday Nights
Seasons: Winter, Spring, Summer, Fall, Holiday
League Information
$75 per person registration fee + $10 admin fee (yearly)
7 Regular season games + Postseason
The number of teams able to participate in playoffs will be determined by the director early in the season. Not every team makes playoffs.
1st Tie Breaker is head to head matchup. 2nd Tie Breaker is points allowed
Players may register as a free agent or to a private team
Minimum roster is 7 players, there is no max
Rosters must be finalized by game 4 of each season
Sub players are allowed for adult leagues only. $15 fee per game, per player
Only 3 sub fees will be used towards your total registration fee. Any additional sub fees paid will not count towards the total registration fee
Schedules will be posted online. Please do not print the schedule as it is subject to change
In the event of an ejection, players will be suspended for a minimum of 1 week forcing them to miss the following game.
Teams must be registered 7 days prior to the start of the season and must have 3 paid players in order to be added to the schedule
Any free agents wishing to play together must email the director, Earl Wilson at ewilson@beachfieldhouse.com
All Virginia Beach Field House Intramural basketball games for both youth and adult are governed by the National Federation of High School Basketball rules with the EXCEPTIONS and modifications outlined in the rules below. The official rules are written and published by the National Federation of State High School Associations (NFHS), which governs Virginia High School basketball rules.
Home team must provide their own white shirts
Away team must provide their own dark shirts
We encourage teams to provide their own jerseys!
(if teams show up with similar color jerseys which are difficult for the refs to distinguish, the home team is expected to change or wear pennies. Everyone must provide their own jerseys.
Basketball is one of the few women's sports that developed with the men and women at the same time. Spreading from the east coast of the United States to the west coast, it is now played all over the world. The Virginia Beach Field House is honored to bring one of the few all women recreation leagues in the country.   Women's basketball is very popular here in Hampton Roads area. Local AAU programs, and high schools have produced WNBA players such at Elizabeth Williams (Princess Anne), Sugar Rodgers (Kings Fort), and Feyonda Fitzgerald (Lake Taylor).
Season Information
2018 Spring Women's League
Registration Open Now!!! Closes on March 18, 2018
Season begins Thursday, March 22, 2018
Division Information
Both Recreational & Competitive Skill sets welcome
Must be 18 years of age
Registration Information
Scroll over "Registration" at the top and choose leagues.
On the left side of the page, choose your specific sport. Once the sport has been chosen, choose your division (Coed, Men's, Women's)
Click the register button on the right for the league you are looking to register.
IF REGISTERING A NEW TEAM:
If your team is not set up, please select: "Register a Team". This will prompt you to enter the team name, and allow you to set the registration code. In order to register yourself to the team, you will need to choose the register button to the right of the league you registered your team for and follow the directions below for "If Joining a Team".
IF JOINING A TEAM:
If you are a player registering for a specific team, please select: "Join a Team". You will need a registration code to join your team. Please contact your captain to obtain your registration code.
IF REGISTERING AS A FREE AGENT:
If you are registering as a free agent and looking to be placed on a team, please select: "Register Individual".
League Policies
LEAGUE ATTIRE
Home team must provide their own white shirts
Away team must provide their own dark shirts
We encourage teams to provide their own jerseys!
(if teams show up with similar color jerseys which are difficult for the refs to distinguish, the home team is expected to change or wear pinnies. Everyone must provide their own jerseys.)