Smithsonian Soccer Academy Summer Training Program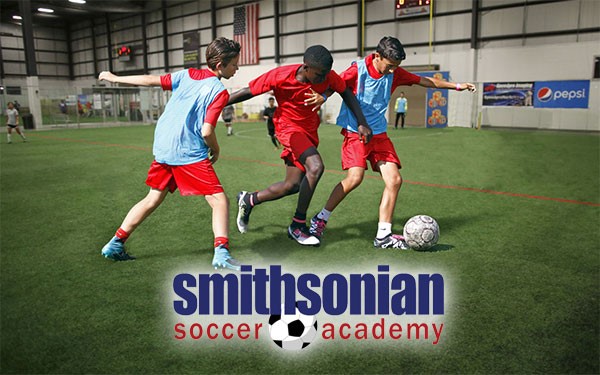 Price: $390
Time:
Seasons: June 11 to July 29

What training methodology does Smithsonian Soccer Academy utilize to produce so many U.S. National/Regional/State ODP and college players?  It is the cognitively demanding and uniquely focused technical and tactical training that we provide that ensures players develop quickly and learn to play faster on the soccer field.  We are one of the few cognitive soccer training programs in Virginia and our participants develop faster and more comprehensively than players who receive traditional forms of training.
The Smithsonian Soccer Academy Summer Training Program will introduce our soccer players to brain-centered soccer training.  We attempt to perform exercises that engage the brain, require constant scanning of the field, emphasizes movement in different directions, and receiving and passing on the move.  We demand technical excellence in an environment where the brain is receiving multiple impulses and conflicting information.  This training leads to tremendous increases in speed of play where players must perform in tight spaces under severe opponent pressure.
Every exercise that Smithsonian Soccer Academy trainers conduct this summer will have cognitive elements that will teach players how to play quickly and be calm when they are under intense physical, time, and space related pressure.  Creating players who can play intelligent fast paced soccer under pressure is our goal and is the reason we have helped produce 4 U.S. National ODP Team Pool Players, 48 Regional ODP Players, 136 Virginia State ODP Players, and over 200 college players.
All pertinent details about the program are contained in the registration form.  Please register today for the Smithsonian Soccer Academy Summer Training Program and become our next generation of U.S. National Team Pool players, Regional/State ODP players, and future college players.
Smithsonian Soccer Academy's Summer Training Program will begin June 11 and will take place on every Monday, Friday & Sunday from 6PM-7:30PM until July 29.
For more information and questions, please contact:
Kevin Smith, Technical Director
Smithsonian Soccer Academy
(757) 577-2351
diagonalrun@hotmail.com