Self Defense Seminar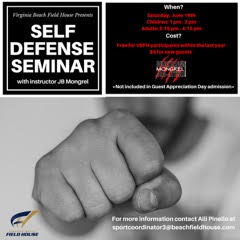 VBFH is excited to announce our first Self Defense Seminar!
When: Saturday, June 16th, 2018
Time: Children 1pm-2pm, Adults 2:15pm-4:15pm
What: Two sessions, one for children and one for adults, taught by instructor JB Mongrel
Cost: Free admission for current VBFH participants within the last year, and $5 for new guests
*Not included in Guest Appreciation Day admission*
If you are a league participant, click here to register.
If you are a participant in a program other than a league, click here to register.